Recent Blog Posts
DOWNLOAD | Walking Under Stars – Hilltop Hoods
EXCLUSIVE | Hilltop Hoods – Walking Under Stars (Review)
TOUR | Hilltop Hoods – Cosby Sweater Tour
Following the release of Hilltop Hoods' latest album "Walking Under Stars" we have the brand new video for the single "Cosby Sweater". Hilltop Hoods have announced the Cosby Sweater tour (hit the URL above for full tour dates) following a recent worldwide tour promoting the latest album Walking Under Stairs. Familiar faces in the video include the likes of Briggs, K21 and more. You can also read the official Hip-Hop Kings review of Hilltop Hoods – Walking Under Stars on the link listed above. You can watch Hilltop Hoods – Cosby Sweater on the YouTube player below.
Category: Videos
Taken from his upcoming compilation "Ghetto Youths International Presents – Set Up Shop Vol.2″, Damian Marley has leaked a brand new single titled "Hard Work". Damian Marley has been hard at work (pun intended) as next month he teams up with Norwegian Cruise Lines for his first annual Welcome To Jamrock Reggae Cruise. Fans can view more information on the official "Welcome to Jamrock Reggae Cruise" website on the URL above. You can listen to Damian Marley – Hard Work here.
Category: Music
iTUNES PRE-ORDER | If There's a Hell Below – Black Milk
As we await the new album from Black Milk titled "If There's a Hell Below", we have a new track from the album titled "Gold Piece". The track features Bun B, who features on the album alongside Blu, Pete Rock and Random Axe among others. If There's a Hell Below will be Black Milk's fifth album and is available for pre-order on the links listed above. You can listen to Black Milk ft Bun B – Gold Piece on the soundcloud player below.
Category: Music
PREVIOUS | *EXCLUSIVE* Tha Office Cypher
This is the brand new video from Tha Office member P.Solja for his single "Kick Back Chillin". Released via The Guilty Party YouTube Channel, P.Solja presents some excellent visuals which complement the laid back track. P.Solja has confirmed that "Kick Back Chillin" will be featured on his mixtape "Heist 2″ which will be available later this year, alongside an official "The Guilty Party" mixtape which we also hope to hear in 2014. Look out for plenty of news and music from P.Solja in the forthcoming weeks. However, you can watch P.Solja – Kick Back Chilin on the YouTube player below.
Category: Videos
The very popular DJ Jazzy Jeff is back in London on Saturday the 24th October thanks to an ever-present Doctors Orders, who are also giving one lucky an artist a rare opportunity. An upcoming DJ will have the chance to warm up for DJ Jazzy Jeff DJ Mr Thing, DJ MK, Spin Doctor and more, and the winner will be picked by the man himself. Participants must record a Hip-Hop mix between 20-45 minutes long and upload to Mixcloud. Full details can be found on the link above. You can view the official flyer for The Doctors Orders Present – DJ Jazzy Jeff here.
We are honoured to premier the European release of Praverb's new featured single titled "The Fray". The song belongs to German singer Devize and Belgian Hip-Hop group Aral and Sauze, and American-based Praverb has debuted  the single with HHK to mark the release. Praverb and Devize have been collaborating for several years, and "The Fray" is a follow-up to their 2012 released track "Temporary Home". You can listen to Devize ft. Praverb, Aral and Sauzé – The Fray on the soundcloud player below.
Category: Music
DOWNLOAD | Big Dusty – Single – Joey Bada$$
PREVIOUS | Pro Era (Joey Badass x Dyemond Lewis x A La Sole) – Sol Luna
This is the official video from Pro Era member Joey Badass for the single "Big Dusty". The single is the first from Joey Badass' forthcoming album "B4.da.$$" which will be dropping later in 2014, and has been produced by Kirk Knight. There are no confirmed guest appearances or producers from the upcoming album yet, however we're expecting to see the Pro Era crew mentioned, and production from the likes of DJ Premier and MF Doom who Joey Badass has worked with previously. Fans can download Joey Badass – Big Dusty from the iTunes link listed above, and you can watch the official video to Joey Badass – Big Dusty on the YouTube player below.
Category: Videos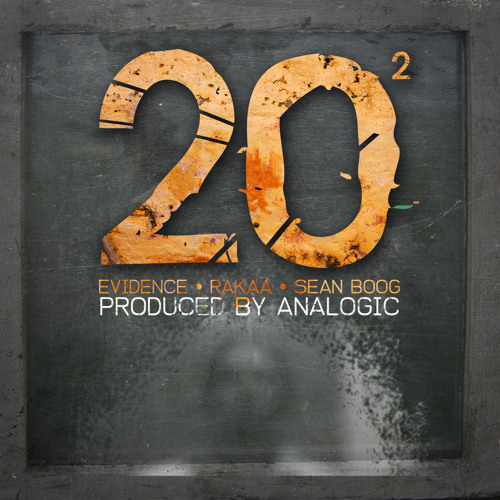 PREVIOUS | Audible Doctor ft Consequence – No Future
DOWNLOAD | Twenty Squared Remixes – EP – Analogic, Evidence, Rakaa & Sean Boog
As part of an E.P of remixes, the Audible Doctor steps up for his remix of Twenty Squared. The original track (and the remix) is a collaboration between artists Analogic, Evidence, Rakaa and Sean Bogg and Audible Doctor's remix is featured on a four track EP which is available to download from the iTunes link above. Other remixes come from Analogic, Dirty Art Club and S Raw. You can listen to Audible Doctor – Twenty Squared (Analogic, Evidence, Rakaa and Sean Bogg) Remix on the soundcloud player below.
Category: Music
PREVIOUS | Rewd Adams and The Last Skeptik – How NOT To Make a Living
Very happy to see the return of Rewd Adams to Hip-Hop Kings with his new single "Gone". I've been informed that Gone is taken from Rewd Adams' forthcoming mixtape which we will hear later in 2014, and is a joint project with DJ MK (Kiss FM, Dizzie Rascal DJ). Look out for plenty of more promotional material ahead of the release of Rewd Adams' upcoming mixtape. However, you can listen to Rewd Adams – Gone on the soundcloud player below.
Category: Music
Previous | Omar Review
By Joe Langham
Soulmate is the feature length debut from Axelle Carolyn. Presented by Neil Marshall, director of the brilliant cult film 'Dog Soldiers', Soulmate tells the story of Audrey who has retreated to a fairly isolated Welsh cottage after suffering a personal tragedy. The cottage has a history and a mysterious locked box room from which strange noises come at night. As Audrey seeks to overcome her own grief, she begins to unlock the mysteries enclosed within the cottage and subsequently unravel the grief that shrouds it. The film stars Anna Walton as Audrey and Tom Wisdom as Douglas.
Soulmate is a slow burning and atmospheric film with rich and interesting characters. It has the feel of various films and genres including the chilling classic 'The Shining', 'The Woman in Black' and classic Gothic horror with a lacing of romance.
At times some of the performances do not do the script justice and can be fairly bland and matter of fact; however films of this type are not generally renowned for their Oscar worthy acting. Anna Walton as Audrey is rather peaks and troughs, but the stand out performance is Tom Wisdom as Douglas. Douglas is a tortured soul and Wisdom plays him brilliantly with an honest and powerful performance.
However, the story is the focal point in Soulmate. Carolyn's film is wholly story driven with some rich and interesting characters. They are a welcome change from those in similar films, which generally have about as much character as a puddle.
The film is also visually beautiful and the Brecon setting is lovely to look at. Carolyn manages to capture an eerie stillness in the natural setting. The films atmosphere is heightened even more by both the voyeuristic shots which litter the film and the chilling sound of the violin, a haunting sound at the best of times but even more so in the isolated setting.
It does, however, feel as though there is something missing, like a punch has been pulled, and that is because there is. The BBFC deemed the original opening scene too much for this eerie film and thus have dulled the impact of the film. They say a picture is worth a thousand words and that rings true here as Audrey's back-story is only mentioned in conversation during the film and does not have the projected impact that it would had the full edit been passed. It's a bit like starting a book on chapter two, but only because the reader before you thought chapter one was not suitable and decided to tear it out. For your own benefit of course.
Soulmate is by no means an amazing film but neither is it a bad one. Its bad points do not detract from its good points and overall it is an enjoyable watch. It offers a refreshing take on worn out haunted house/supernatural movies and is a welcome change from the other lame and repetitive films in similar veins. Axelle Carolyn, unsurprising considering her previous written work, also shows promising writing and directing prowess and her future projects are something to look forward too.
Soulmate is out now in the UK on DVD and VoD, available to buy both in store and online, RRP £17.99. Currently available at Soda Pictures and Amazon for much less than the retail price.
Included on the DVD are a director's commentary along with FrightFest interviews with Anna Walton, Axelle Carolyn and Neil Marshall. There are also two short films: The Last Post and The Halloween Kid. The Halloween Kid is a spooky story about a kid called Henry, a bit of an outcast on every day of the year apart from one: Halloween. It has the feel of something from Grizzly Tales for Gruesome Kids. The Last Post is a ghost story about unfulfilled and lingering love, a similar field to the main feature.
Check out the trailer for Soulmate below
Category: Exclusive