Recent Blog Posts
Black Milk – No Poison No Paradise | DOWNLOAD
Detroit-based producer and rapper Black Milk has today released his latest album "No Poison No Paradise" which is quickly being touted as a contender for "Top 10 Hip-Hop Albums of 2013″. Although we're only in October, major publications including HipHopDX and Pitchfork Media have given rave reviews, and the self-produced album (minus one track) is Black Milk's fifth, and arguably best to date. Black Milk is also currently touring with Quelle and DJ Sober and fans can view the remaining tour dates below, however you can view the artwork and download link for Black Milk – No Poison No Paradise here.
Oct. 16 – Detroit, MI @ St. Andrew's
Oct. 17 – Toledo, OH @ Frankies
Oct. 18 – St. Louis, MO @ Blank Space
Oct. 19 – Chicago, IL @ Subterranean
Oct. 20 – Iowa City, IA @ Gabe's
Oct. 21 – Minneapolis, MN @ 7th Street Entry
Oct. 22 – Cleveland, OH @ Grog Shop
Oct. 23 – Pittsburgh, PA @ Smiling Moose
Oct. 24 – Washington, DC @ Liv
Category: News
Official Website | DJ Format
News of an International collaboration surfaced yesterday with U.K legend DJ Format teaming up with Phill Most Chill for a joint album titled "The Foremost". The ten-track album is a collection of songs the duo have worked on which has been described as having a "variation of style, tempo, and lyrical content". The Foremost will be available from 28th October 2013 on Project Blue Book, and fans will be able to purchase as vinyl, CD or digitally. You can watch an exclusive "The Foremost" album sampler video on the YouTube player below.
Category: Videos
Previous | Eminem – Berzerk
As we prepare for the release of Eminem's MMLP2 on 5th November 2013, Eminem has released a brand new single "Rap God" through his official YouTube Channel. The previous single/video Berzerk drew mixed reviews from old and new fans, as I'm sure Rap God will set to do as the song goes viral in the next few days. Eminem spits double time but general consensus is he's failed to recapture the spirit of the original Marshal Mathers LP. You can listen to Eminem – Rap God on the YouTube player below.
Category: Music
Related | The Godfathers 2012 Interview @ Hip Hop is AWOL 
Exciting news for true-school Hip-Hop fans across the world, as rap legend Kool G Rap and underground phenomenon Necro join forces for a collaborative album titled "Once Upon a Crime". The pair (known as The Godfathers) have released the first single/video "Heart Attack" from the forthcoming project which will be available to download on 19th November 2013. Look out for more promo in the forthcoming weeks including the official track listing and guest appearances and producers. You can watch Kool G Rap and Necro (The Godfathers) – Heart Attack on the YouTube player below.
Category: Videos
Previous | Zaheer – An Insight into Reading Festival
Related | Zaheer – BBC Radio Airplay and Mood Swings Documentary
Following on from a milestone career moment (performance at Leeds and Reading Festival), Zaheer and Abiade return with the video for their latest single "Boycott". The rising stars are currently gaining praise from various BBC Radio 1 DJ's, bloggers and magazines around the country. Boycott has been met with positive reviews and the profile of the single is only set to get bigger. You can watch the brand new video from Zaheer and Abiade – Boycott on the YouTube player below.
Category: Videos
Exclusive | 2012 Mosh Team Cypher
Previous | D'Lyfa Reilly – Amsterdamnesia
Download | D'Lyfa Reilly – Cloud Rhyme E.P
Mosh Team member and Manchester-based D'Lyfa Reilly releases the video for his single "One of Them Ones" which is taken from the "Cloud Rhyme E.P" which is available from the link above. D'Lyfa Reilly has been a HHK favourite for years, being featured on the 2012 UK Boom Bap Cypher, and the Mosh Team Cypher along with Illatant and Shotty Horroh. Support by downloading from the links above, however you can also watch D'Lyfa Reilly – One of Them Ones on the YouTube player below.
Category: Videos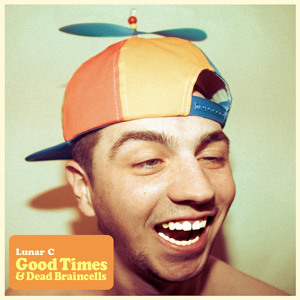 Download | Lunar C – Good Times and Dead Brain Cells
Previous | Lunar C – Free Weed for Single Mothers
Following the release of "Good Times and Dead Brain Cells", Lunar C has released another visual from the project for the track "Buzz". Produced by TroyBoi, Buzz is another video alongside "Contradict", "Free Weed for Single Mothers" and "Going  Dumb" which have all been met with positive reviews from fans and critiques alike. "Buzz" was edited by Lunar C himself, and is quickly growing in popularity as more fans and blogs are sharing the video which is less than two days old. You can still download Lunar C – Good Times and Dead Brain Cells from the link above, however you can also watch Lunar C – Buzz on the YouTube player below.
Category: Videos
Previous | Josh Osho ft Childish Gambino – Giants
The multi talented Childish Gambino, who many may know under his stand up name Donald Glover or for his role as Troy Barnes in Community, has announced a new album titled 'Because The Internet'. Not much has been released about the album yet besides a short video entitled Yaphet Kotto, showing CG lying face down in a dirty swimming pool, accompanied by a short freestyle thought to be off the upcoming release. If that is anything to go by it sounds like it could be some of Childish Gambino's most promising work yet. It is scheduled for release some time in December. Check out Yaphet Kotto on the YouTube player below.
Category: Upcoming Releases
Previous | L&S – Long Time Coming
Following the recent release of their final single, Leddie and Smoggy have released the promotional cover artwork for their upcoming debut album 'Sorry We're Late'. The Middlesbrough based duo has released three singles in recent months as they lead up to the anticipated release on October 28. For those that have not already heard it check out their latest single 'What If' accompanied by a beautifully shot video below. You can catch Leddie and Smoggy live in Middlesbrough this Friday supporting one of the most talked about names in UK hip-hop at the moment: Lunar C. They are also in Newcastle on October 19 supporting Shotty Horroh. Hard album copies will be available to buy at the shows too, so you can get it before anyone else. Check out their Facebook and website for the latest updates and details on their shows and music.
Category: Upcoming Releases
Related | Evans – The Robbery
After his successful Hip-Hop Kings debut a few weeks ago, Nottingham based recording artist Evans is back with another track. His latest track titled 'Sex With An Alien' produced by Tony Spark and features a beat as refreshing and chilled as Evans' flow over it. Check it out below.
Category: Music