Recent Blog Posts
DOWNLOAD | Brown Bag AllStars – Brown Label Pt.1 and 2
As HHK earlier announced, the BBAS (Brown Bag AllStars) have released the "Brown Label Pt.1 and 2″ which is available to download now from the link above. The fifteen-track project features guest appearances from the likes of Akie Bermiss, and Soul Khan, J57, Koncept, Audible Doctor, E Holla and Deejay Element present the first group project to remind us why the BBAS are still very much a major force within the Hip-Hop world. Feel free to search the HHK archives for Brown Bag AllStars music. However, you can view the official artwork, track listing and download link to Brown Bag AllStars – Brown Label Pt.1 and 2 here, along with my personal favourite posse cut "What It's All About" below.
1. E Holla Intro
2. BRWN
3. I F*cks With That
4. Rhett Committed Murder (feat. DJ Rhettmatic)
5. Sinful Ways (feat. Akie Bermiss)
6. Rottweilers
7. Say It Now (feat. Akie Bermiss)
8. Kin (feat. Akie Bermiss)
9. 406
10. Rottweilers (Audible Doctor Remix)
11. BRWN (J57 Remix)
12. Rhett Committed Murder (Audible Doctor Remix)
13. Say It Now (DeeJay Element Remix)
14. I F*cks With That (J57 Remix)
15. Bleuvelour (feat. Akie Bermiss)
Category: Free Downloads, Music, Videos
PRE-ORDER | inFAMOUS Second Son
Playstation have presented the brand new "inFAMOUS Second Son" TV Advert which continues to raise excitement prior to the game release this month. Playstation recently announced that over 6 million PS4′s have been sold worldwide, and inFAMOUS Second Son is one of the leading contributors towards that figure. The new TV advert contains gameplay footage of lead character Delsin Rowe, who throughout the game discovers his superpower and fights back against the dictatorship of the Department of Unified Protection. You can pre-order inFAMOUS Second Son from the link listed above. However, you can watch the "inFAMOUS Second Son" TV Advert on the YouTube player below.
Category: Exclusive
Be the Batman.
In the explosive finale to the Arkham series, Batman faces the ultimate threat against the city he is sworn to protect. The Scarecrow returns to unite an impressive roster of super villains, including Penguin, Two-Face and Harley Quinn, to destroy The Dark Knight forever. Batman: Arkham Knight introduces Rocksteady's uniquely designed version of the Batmobile, which is drivable for the first time in the franchise. The addition of this legendary vehicle, combined with the acclaimed gameplay of the Batman Arkham series, offers gamers the ultimate and complete Batman experience as they tear through the streets and soar across the skyline of the entirety of Gotham City.
Category: Exclusive
PRE-ORDER | Atmosphere – Southsiders
PREVIOUS | Atmosphere – Bob Seger
The title says it all. It's a good day when news from the Rhymesayers camp reaches us that Slug and Ant (also known as Atmosphere) will be releasing their eighth studio album "Southsiders", and also present the first single from the album titled Bitter. Fans are able to pre-order the album from the links listed above, and also view the official track listing for Southsiders which is listed below. Look out for plenty of innovative promotion ahead of the Southsiders release. However, you can listen to Atmosphere – Bitter on the soundcloud player below.
1. Camera Thief
2. Arthur's Song
3. The World Might Not Live Through The Night
4. Star Shaped Heart
5. I Love You Like A Brother
6. Southsiders
7. Bitter
8. Mrs. Interpret
9. Fortunate
10. Kanye West
11. We Ain't Gonna Die Today
12. My Lady Got Two Men
13. Flicker
14. January On Lake Street
15. Let Me Know That You Know What You Want Now
Category: Music, News, Upcoming Releases
DOWNLOAD | Big Dutty Deeze – Live Evil
PREVIOUS | Big Dutty Deeze – Mad World
Big Dutty Deeze is quickly solidifying himself as one of the most respected and hard working artists within the U.K Hip-Hop world. The latest video for the single "Charles Manson" has been directed by Genesis Elijah's "Escape Route Media" and has received plaudits from bloggers, publications and fans alike. Big Dutty Deeze is promoting the recent "Live Evil" which can be purchased from the official bandcamp page (link listed above). You can watch Big Dutty Deeze – Charles Manson on the YouTube player below.
PREVIOUS | Iron Braydz ft Prince Po – Millennium
As HHK reported last month, Triple Darkness member Iron Braydz will be releasing his forthcoming E.P "Verbal sWARdz" on April 14th, and we have the brand new video for the single "Dredd" to share. In February, fans were treated to the excellent single "Millennium" which featured Hip-Hop legend Prince Po. Dredd continues, once again, to raise the bar and set very high expectations for the rest of the E.P. Credits go to Jason Lannaman for the visuals, and you can now watch Iron Braydz – Dredd on the YouTube player below.
Category: Music, Upcoming Releases, Videos
Previously: Golden Era Mixtape 2013
written by Adam Darbyshire
 Back once again the Golden Era team have not disappointed, with yet another free mixtape from the whole squad and then some.
This one features a lot more of Briggs and K21 than the previous tapes, but I'm assuming that is down to K21 being settled in on the label now and Briggs has his Sheplife album coming shortly. It also makes more reference to video games and green than the others but all this means is that the resident DJ's have made some awesome beats featuring some 16 bit noises here and there, oh and the original Duke Nukem features on one of the tracks. This for me is why they are one of my favourite labels out at the minute, all their music features good vibes and intends to bring good times, there is never any talk about issues with other rappers or problems they may have, except pointing out that all rappers need to drop the 'American accent' which I agree with entirely.
There is as always a GE Cypher to play the tape out which features one of the best instrumentals I have ever heard, the video below will show you exactly what I mean, just find that little piano piece that's in the background.
On the off chance you aren't into rap but do appreciate a good instrumental the DJ track, split between Debris and Adfu  is absolutely golden, perfect cuts and samples throughout.
It is a great preview of what is to come from the Golden Era label in the next year and by the sounds of these previews it is going to be a heavy year, featuring around 4 albums I think all of which I am getting at the first possible opportunity and implore you to do the same.
If you have read this much into the review and haven't yet copped the free mixtape please click the link and go get it, it is a quality tape that could show you some artists you don't yet know are out there, or at the very least give you some good tunes to play through, at the end of the day guys its free what could go wrong?!
On the link for the download there is also another free tape on there courtesy of Golden Era called Briggs & Friends, again massive props for this one and fully worth the FREE download!
http://www.audiomack.com/artist/golden-era-records
Category: Exclusive
TICKETS | TicketLine
PREVIOUS | MAMA & This Is Hip Hop Present Slaughterhouse UK Tour
You've read correctly. Our friends at This Is Hip Hop have announced today that the legendary LOX (Jadakiss / Styles P / Sheek Louch) will be performing in Manchester at the Club Academy on Saturday 29th March. Tickets are now available to fans from the links above. However, tickets are limited at 550 so make sure you grab yours now to avoid disappointment. It's also confirmed that Manchester-based Meany will be opening and supporting with other special guests on the night. You can view the official event flyer, and tickets links to This is Hip Hop Present The LOX here. Also, you can listen to LOX – Boom Bap below.
Lyrical Media Official YouTube Channel
I've recently received the brand new video from Wolverhampton-based Natty C for the single "Dumbing Down". Credits go to Lyrical Media who uploaded and featured the video on their official YouTube Channel (link above) who are also responsible for presenting brand new UK Hip-Hop and Grime music from across the country. Natty C makes his debut on HHK with Dumbing Down and we're expecting to receive more material as we progress through 2014. You can watch Natty C – Dumbing Down on the YouTube player below.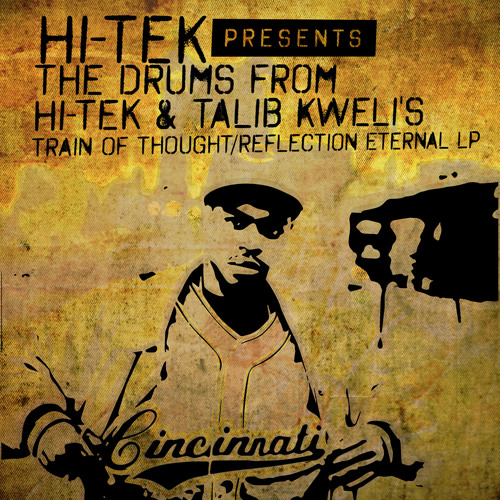 PRE-ORDER | Hi-Tek "The Drums"
Legendary Hip-Hop producer Hi-Tek has teamed up with The Drum Broker to release the drums from his collaborative album "Train of Thought". As many Hip-Hop fans know, Hi-Tek partnered with Talib Kweli for the album under the alias Reflection Eternal, and Train of Thought was widely regarded as one of the best collaborative albums of its time. Fans can pre-order the drums which are straight out of Hi-Tek's Akai MPC3000, which for the first time can be made available to the public. The drums will be available from Friday 7th March 2014 in 24bit WAV format. You can view the official artwork for the project and listen to the full Hi-Tek and Talib Kweli (Reflection Eternal) – Train of Thought album below.