Tag: playstation
PRE-ORDER | inFAMOUS Second Son
Playstation have presented the brand new "inFAMOUS Second Son" TV Advert which continues to raise excitement prior to the game release this month. Playstation recently announced that over 6 million PS4′s have been sold worldwide, and inFAMOUS Second Son is one of the leading contributors towards that figure. The new TV advert contains gameplay footage of lead character Delsin Rowe, who throughout the game discovers his superpower and fights back against the dictatorship of the Department of Unified Protection. You can pre-order inFAMOUS Second Son from the link listed above. However, you can watch the "inFAMOUS Second Son" TV Advert on the YouTube player below.
Category: Exclusive
PURCHASE | Gran Turismo 6 – Playstation 3
RELATED | PS4 Generates 10% of Online Streaming
PREVIOUS | Gran Turismo 6: Start Your Engines Trailer
As bridges are continually built between reality and the virtual world, Polyphony Digital Inc (creators of Gran Turismo 6) have announced the new BMW M4 Coupe has been made available through a new update of the game. Owners of Gran Turismo 6 will be the first to virtually test drive the car which goes on sale in 2014. The collaboration is set to be the first of many, and Gran Turismo 6 owners can use the BMW M4 Coupe from the 12th December to the 26th December on the Nurburging Grand Prix Circuit. You can watch the official BMW video of the BMW M4 Coupe concept on the YouTube player below.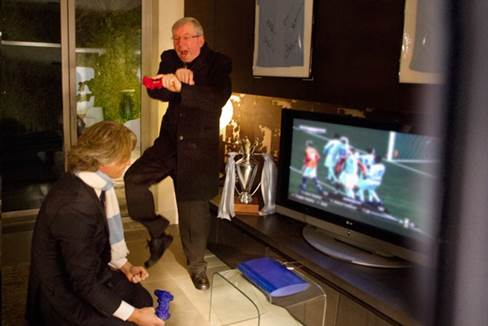 The title race might be over, but the competition never is. Red vs Blue, new limited edition Super Slim PlayStations available now.
This is a brand new video from highly respected contemporary artist Alison Jackson, who has caught footage of Manchester City boss Roberto Mancini having a game on the new PlayStation3 Slim against Manchester United manager Alex Ferguson. So maybe the football managers are look-alikes, and Alison Jackson is renowned for focusing work on the obsession of celebrities, and is often labelled funny and thought-provoking. As we approach the final months of the Premiership campaign, who do you think will be victorious? #RedorBlue ?
Category: Videos