Tag: preview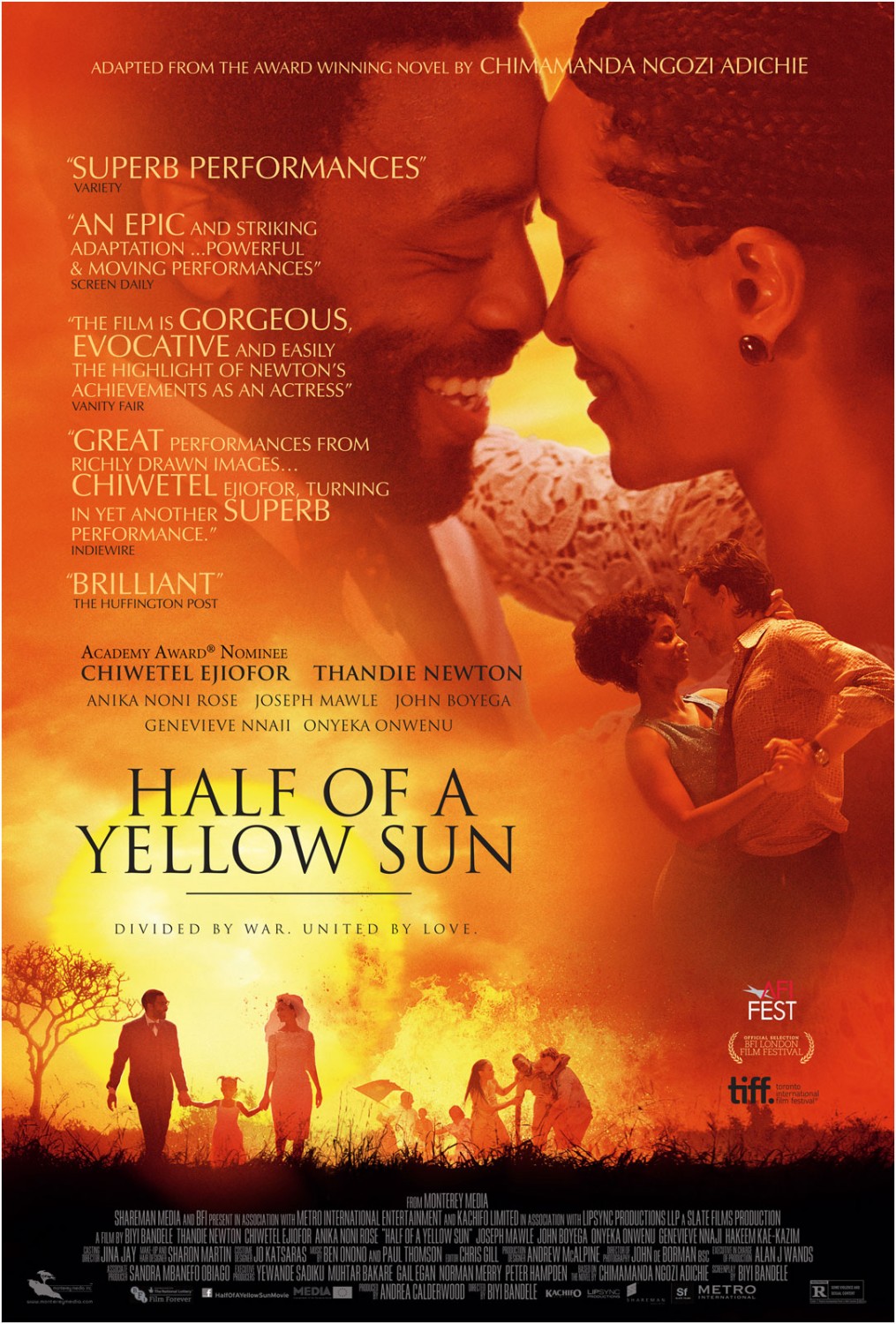 Previous | Hercules Official Trailer
Half Of A Yellow Sun opens nationwide on Friday, 11 April but you can catch the film before everyone else, at one of two special screenings taking place in London next week.
The first special preview will be on Monday, 7 April at Peckham Plex, Peckham with director Biyi Bandele and author Chimamanda Ngozi Adichie taking part in a Q&A session.
On Wednesday, 9 April Biyi Bandele will again be available for a Q&A session and will be joined by Chiwetel Ejiofor, who most recently starred as Solomon Northup in Steve McQueen's harrowing masterpiece: 12 Years A Slave. This screening will take place at Odeon Cinema, Greenwich.
Chimamanda Ngozi Adichie's much-loved novel 'Half of a Yellow Sun' is adapted for the big screen, in a drama which follows two middle-class sisters whose lives are torn apart by the Nigerian Civil War. Starring Oscar nominee Chiwetel Ejiofor, BAFTA winner Thandie Newton, Joseph Mawle, Anika Noni Rose and John Boyega, 'Half of a Yellow Sun' is the directorial debut from Biyi Bandele.
Set during the 1960s, the film follows twins Olanna (Newton) and Kainene (Rose) in the years leading up to and during the devastating Nigerian conflict. While Olanna falls in love with a passionate activist Odenigbo (Ejiofor) and Kainene with a British writer Richard (Mawle), both sisters and their partners struggle to survive.
Tickets for both screenings are available to buy now at:
Both screenings begin at 18:30.
Category: Upcoming Releases
One half of
Grand Central (Mr Drastick)
yesterday announced he will be releasing his forthcoming E.P "The Last Gladiator Standing" in the forthcoming months. Mr Drastick explains "I use the word GLADIATOR as a metaphor to describe a survivor. The bravehearted who no matter how hard the task is, get it sorted and live on. Life ain't no fucking picnic but that ain't a good enough reason to give up and die. Only my Gladiators can relate to my kind of music." Check out Mr Drastick's bandcamp page (link above) to listen to a preview of the intro for the E.P. Yo can also view the artwork for
Mr Drastick
– The Last Gladiator Standing E.P above.
Category: Upcoming Releases
The multi-talented actor and musician "Kruga" has presented his brand new movie (written and directed by himself) called Men Lie, Women Lie, But the Facts Don't. Kruga has previously starred in the movie "Dead Man Running" alongside 50 Cent and Danny Dyer, and has started his own media production company alomgside Gridloc Films. This short film was recorded in assosiation with Ben Mestor, of Dansac Pictures, and analyses the issues of relationships. You can watch Kruga's "Men Lie, Women Lie, But the Facts Don't", preview below, and watch the full movie from Kruga's official website (link below).
www.officialkruga.com/kworld.html
Category: Exclusive
As we continue to prepare for the release of Statik Selektah and Termanology's collaborative album "1982", here is the video for the single "Still Waiting". 1982 will be available from October 26th, and the video for Still Waiting features cameos from Lil Fame of M.O.P and ST.Da Squad, and directors credits are given to Jon Wolf. I recently posted the official artwork and tracklisting for the 1982 album which you can view in the "related posts" section. You can watch the new video from Statik Selektah x Termanology – Still Waiting below.
Category: Videos