Tag: Talib Kweli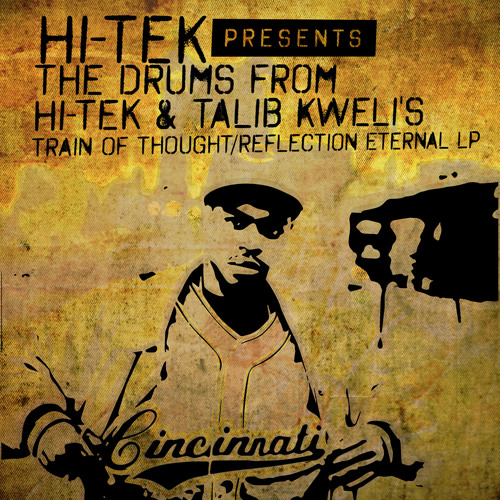 PRE-ORDER | Hi-Tek "The Drums"
Legendary Hip-Hop producer Hi-Tek has teamed up with The Drum Broker to release the drums from his collaborative album "Train of Thought". As many Hip-Hop fans know, Hi-Tek partnered with Talib Kweli for the album under the alias Reflection Eternal, and Train of Thought was widely regarded as one of the best collaborative albums of its time. Fans can pre-order the drums which are straight out of Hi-Tek's Akai MPC3000, which for the first time can be made available to the public. The drums will be available from Friday 7th March 2014 in 24bit WAV format. You can view the official artwork for the project and listen to the full Hi-Tek and Talib Kweli (Reflection Eternal) – Train of Thought album below.
DOWNLOAD | Talib Kweli – Prisoner of Conscious
Related | Skyzoo ft Talib Kweli – Spike Lee Was My Hero
In October Hip-Hop fans flocked the Duck Down Music and Javotti Media's CMJ event showcase which Talib Kweli headlined, and here is a new video of Kweli bringing Sean Price on stage to perform their collaboration track "Palookas". Talib Kweli released his fifth studio album "Prisoner of Conscious" earlier n 2013 is currently touring with Macklemore, Ryan Lewis and Big K.R.I.T. You can watch Talib Kweli ft Sean Price – Palookas (LIVE) on the YouTube player below.
Category: Videos
Skyzoo – A Dream Deferred | DOWNLOAD
The incredible 2012 album "A Dream Deferred" by Skyzoo still has regular rotation on thousands of playlists across the world (including mine), and I'm pleased to share the brand new video for the single Spike Lee Was My Hero ft Talib Kweli. Skyzoo received countless excellent reviews and comments from critiques and fans, and the latest video directed by Alex Ghassan adds to Skyzoo's very impressive resume of videos. Fans are treated to a special Spike Lee appearance at the end, and are reminded they can still purchase A Dream Deferred on the download link that's listed above. You can watch Skyzoo ft Talib Kweli – Spike Lee Was My Hero on the youtube player below.
Category: Videos
Iron Solomon – Monster | DOWNLOAD Link
City anthems only come around once a while, yet New York seems to be the place where it's done the best. Iron Solomon has teamed up with Talib Kweli for their collaborative effort "The Empire" which is featured on Iron Solomon's debut album "Monster". Premiered through Red Bull, Cameos include Talib Kweli, Joell Ortiz, Maino, and legendary graffiti writer Chris "Freedom" Pape, but the first person to correctly guess all of the cameos in the video by emailing contests@duckdown.com will receive this exclusive Iron Solomon prize pack (http://bit.ly/N0uoa9). You can download Monster from the link above, and you can also watch Iron Solomon ft Talib Kweli – The Empire on the Red Bull player below.